The start of a new decade is the perfect time to clean the old out of your closet and add some new pieces as well. While we firmly believe that you're going to look and feel better if you're choosing styles that you enjoy, there's no harm (and potentially a lot of benefits) in being aware of upcoming style trends. If you want to stand out and make an impression, your style is a great way to do so.
Would you rather listen to a recap of this article? Watch it here!
Outfit Styling 101: Don't Try to Emulate What You See on the Runway
When thinking about style trends and what you should be wearing, we are going to advise the exact opposite of websites that assume that if something is one the runway in a fashion week somewhere, it should be on your body. We disagree.
Fashion shows are meant to be a showcase of a designer's most cutting edge works. In a sense, fashion shows are meant to be pushing the envelope of what is happening in the broader fashion industry– fashion show outfits are meant to exaggerate trends, make a statement, or cause controversies. Fashion shows are supposed to push the boundaries of what fashion is, not necessarily demonstrate what everyday folks should be wearing.
If you see something on the runway and it speaks to you, go for it! You will look exciting and make a statement. Just know that you don't have to be runway ready to still be stylish.
Besides, a lot of times the "trends" that are promoted on runways or by the blogs that treat fashion week like something sacred are very shortsighted. For example, fashion website The Trend Spotter includes over-the-knee shorts and two-strap slides as two of the big fashion trends we're going to see in 2020. To that, I say: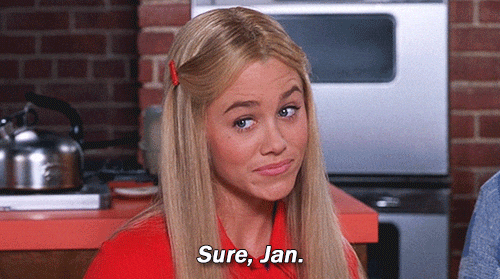 Could you wear this and create a decent outfit? Probably. But these are also very distinct styles that are going to be limited in their relevance. We saw similar pieces trending (to an extent) in the early 2000s. A few years later, however, they're looked back on as laughable. In a few years, the guys who rock the absurdly baggy over-the-knee shorts in 2020 are going to just be the next version of kids who rocked the JNCO Jeans 1998.
Finding your style isn't about riding the constantly-fluctuating waves of what is considered an acceptable trend. It's about understanding cut, color, silhouette, and pattern well enough to put together outfits that timeless and distinctly you.
Play with Color and Pattern
Especially with your shirts, experimenting with new colors and patterns can help you step up your style game. I'm not talking about going from solids to stripes, either. Consider integrating tops that incorporate color blocking, mixed textures and fabrics, and contrasting color accents.
Don't be afraid to go bold with colors and patterns, especially if you're wearing solid jeans or layering with simpler textiles. You can even take this to the next level by picking clothing based upon your skin tone (which we wrote a whole section about here). The TL;DR version of picking colors based upon your skin tone, if that's something you want to try out, is that you should look for colors that are going to contrast with your undertones. For example, a guy with a dark, warm skin tone (think John Boyega) will have high-contrast and create a striking look by wearing bright, cool tones and jewel tones.
Keep in mind that matching colors to your skin tone is 100% not necessary– if you want a high contrast look that enhances your natural features, it can help. But if you'd prefer to dress for a particular vibe rather than the "advised colors" for your skin, go for it!
For example, I'm a pale person with significant pink undertones in my skin. For the longest time, I thought this meant that I couldn't/ shouldn't wear shades of pink and orange. They just made me feel washed out. As I've gotten older and wiser, I realized that the issue wasn't the color, but the general styling. I wasn't confident with those colors, so I was trying understated pieces. Once I said f*ck it and just went for it, I found that I could absolutely feel comfortable and look good in those tones. I just had to wear them in an expressive way rather than a self-conscious way.
Try a New Fit of Pants
For the longest time, I felt like skinny jeans were the way to go. To me, skinny jeans created the sleekest silhouette, and I loved to pair them with looser tops. As a leggy boy who previously didn't have much upper body bulk, this was the way I felt most comfortable balancing out my proportions. Unfortunately, I also projected my insecurities onto others and found myself displeased with outfits that incorporated baggier bottoms.
Like so many other areas in life, learning more about silhouettes and dealing with my body image issues head-on has led me to realize that there are so many more options that can look great.
Now, what I'm seeing more of going into 2020 (and what I'm thrilled to explore in my own fashion) is pairing outfit bottoms in a way to create contrast with tops. Forget what the gay dating scene has taught you– tops and bottoms don't have to look super similar!
(Ba-dum-chhhh; that's the only gay sex joke I'll make this article, I promise.)
As far as pants go, a straight cut indigo denim will still do you no wrongs. It's a go-to and I recommend having a pair or to in your closet.
That being said, even classics will get boring after a while. One of the trends we're seeing more and more of as we get into 2020 is a resurgence of a variety of pant styles from previous decades. High-waisted pants that come up to just above the navel are becoming more and more common, as are slightly flared pants. With flared pants, I'm not talking about a boot cut jean or something that's loose around the ankles. I'm referring specifically to pants that have structure and shape, and are intentionally flared outward at the shin and ankle, usually with a slight pleat. These flared pants aren't the billowing bell-bottoms of the 70s but incorporate a similar, albeit scaled-down, shape.
In addition to trying out new silhouettes, you can also get creative with the color of your pants. Don't feel locked into denim. Earth tones are quite common with pants, especially shades of olive and brown, and you can pair those pretty easily with most tops without looking too matchy-matchy.
Harry Styles for The Face magazine.
Contrasting Layers
Finally, I want to touch on layering as something to keep an eye on this year. Obviously, layering pieces of clothing to make an outfit is nothing new. Going into 2020, however, we're seeing more streetwear that incorporates layering with pieces you may not typically expect.
Oversized blazers and relaxed suits, for example, are expected to be somewhat common. Wearing a relaxed suit jacket over a simple t-shirt or no shirt and paired with high-waisted jeans is one of the few runway looks that from Men's Fashion Week that I think can translate well to daily wear. Rather appropriately, it creates a silhouette that's reminiscent of the gangster caricature of the 1920s but mellowed out with modern fabrics and hip hop aesthetics. As a bonus, if you opt for a button-up shirt or plain shirt under your jacket, it's an outfit that can easily transition into the office.
Layering with practical accessories is also projected to be more common. In particular, cross-shoulder bags are being looked at as something guys should be carrying. Personally I'm quite happy about this trend. As someone who is pretty much always on the go with a computer, I carry a messenger bag around with me most days. In general, most stylists are advising a smaller bag than that, but you can't go wrong with either. My personal bias is that more men should carry bags; they're practical and handy to have.
How will You Dress in 2020
Whether you have a hefty wardrobe bucket or are going to be picking through your local Goodwill with me over the next couple of weeks, the new decade marks an opportunity to try something new with your style.
Don't be afraid to try out something new, and if you put together an outfit you're particular proud of, you can share it with us on Instagram by tagging @selfhimprovement. If you do, I will totally play the role of your sassy gay friend and gas you up.
---